from Fastweb.com
by Elizabeth Hoyt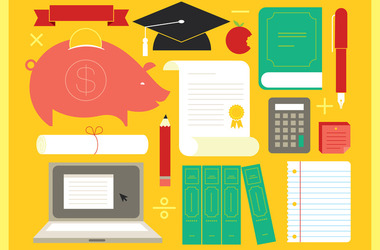 September 04, 2013
Oh, tuition. Some consider it a nasty word and rightfully so. It's expensive and can hang over a student's head throughout college and for years to come.
But there are ways to save on tuition – you just need to become savvy about it. It takes time and effort, but when you're talking about that much money, it's more than likely worth what you put into it.
Here are some simple ways to save money on college tuition:
1. Apply for Scholarships and Grants
Since you're on Fastweb, that's half the battle! Now you just need to apply for as many scholarships as possible.
Remember, the trick with scholarships is, the more you apply for, the more likely you are to win one!
Doubtful? Students really do win scholarships through Fastweb and we have a Wall of Fame to prove it.
Check it out – you could be the next winner!
Make sure you apply to any of your scholarship matches on Fastweb – it's a great resource that matches you to the scholarships so you don't have to do any searching on your own!
There are millions of scholarships available and, no matter what type of student you are, there are scholarships out there for you! You just need to take advantage of the opportunities provided and keep applying.
So many scholarships remain untouched every year because of a lack of applicants, which means the money is out there, you just need to put in a little effort to obtain it.
Similar to scholarships, grants are often considered "free money" because it's essentially financial aid that doesn't require repayment.
The main difference between a grant and a scholarships is that a grant is more likely to be need-based, while a scholarship is more likely to be merit-based or have more specific eligibility qualifications.
Both grants and scholarships can come from federal or state government, the college you're attending or, even, private and non-profit organizations.
Find out the types of grants you're eligible for and apply for all grants you meet the requirements for. After doing some research, you may be surprised at how many you meet the eligibility requirements to apply.
There is one stipulation with grants and scholarships, alike. Some require partial or full repayment if, for example, you drop out or don't finish the semester the grant or scholarship was awarded.
In addition to Fastweb, your teachers, guidance counselors and financial aid office will be able to assist you in any questions you may have regarding where to apply, how to find grants and scholarships and evaluate your eligibility.
2. Summer Enrollment
If you enroll in summer courses each year, the length of time you're in college will decrease. Also, you're more likely to graduate within four years, which many college students are not able to do. This certainly saves money in the long run!
Depending on the college, summer courses are often cheaper than those in the fall and spring semesters.
3. Take More Credits Per Semester
This may not sound like it will save you money, but if you take the maximum amount of credits each semester, you'll be sure to graduate on time, if not earlier.
Make sure you balance your course load in terms of difficulty level so that you don't feel overwhelmed.
But, remember, the closer you are to graduation, the closer you are to no longer having to pay tuition bills. Graduation means no more tuition, which is a great thing!
4. Financial Aid
Ever heard of the FAFSA? If you haven't, the acronym stands for the Free Application for Federal Student Aid.
While the government giving you money sounds like a great idea, keep in mind that it's usually in the form ofstudent loans that need to be repaid.
However, the good news is that taking out financial aid won't charge you interest until you've graduated, which likely means you'll be in a better financial situation (such as having a job) to repay the loans.
Fastweb has many resources on how to evaluate the right types of financial aid for you and answers to common financial aid questions so that you are able to make smarter student loan decisions.
5. Work-Study Programs
Many students don't realize that they qualify for work-study. Actually, most do. Begin the process of finding out if you qualify by filling out the FAFSA form and meet with a college financial advisor to go over your options.
Most work studies consist of a few hours a week, working for the college at a reception desk or tutoring underclassman.
The money you would typically earn from whatever hours you put in the job is usually applied as a credit to your tuition bill. It's really not a bad gig, especially considering you can earn tuition money from it.
So, why not just get a part-time job instead? Work study programs ensure that the money you earn goes directly to paying tuition, so you don't have to deal with decisions of how to spend the money. Basically, it eliminates the temptation to spend your earnings on frivolous items.
It does take time and effort but you can save on tuition. Just research, apply and repeat as necessary!