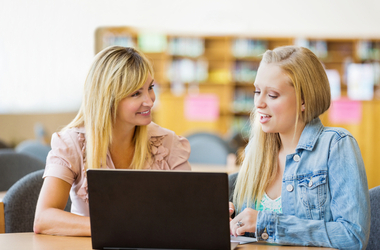 From Fastweb – http://www.fastweb.com/college-search/articles/113-college-essay-editing-tips-for-parents?utm_source=nlet&utm_content=fw_c1_20140305
Yep, you've got a brilliant student on your hands – nobody knows it more than you. But, no matter how sharp your student, it's likely that he or she is going to have a little trouble coming up with the perfect college admissions essay.
Don't worry! It's completely normal – after all, that's a lot of pressure on someone faced with their future riding on one lone document.
And, when he or she comes to you (as most smart students do) asking you to help edit his or her personal statement (the college essay), don't panic.
We've got you covered – just use the following questions as a guide to help ensure you've covered all of the college essay editing basics:
1. Were directions followed properly?
Take a moment to read the instructions given to your student and double check to see if your student followed them accurately. Many students (often unintentionally) misinterpret the instructions and inaccurately answer the provided question. Don't allow your student to submit an essay with this type of response!
Also, check the limits and lengths given: words, pages and of the entire essay. Sometimes, entire essays are counted out, no matter how great the writing is, just because they have failed to follow the guidelines given.
Lengthy writing does not impress admissions officers who are tirelessly working to get through piles of applicants – so help your student's candidacy by recommending they keep their statement short and sweet.
2. Does the formatting fit standard guidelines?
Online applications automatically format essays to fit standard guidelines. However, if you student is not applying online, he or she will have to ensure that formatting is standardized. Double check that the following guidelines are met:
• Times New Roman, 12 point font
• Single-spaced
• Only print on one side of the page
• Each page must include the student's name, high school and date of birth
3. Does the introduction stand out?
You want the admissions officer to want to keep reading what your student has written. Encourage your student to start out with an interesting, perhaps even catchy, introduction, so that the reader is encouraged to continue reading.
Admissions officers read hundreds, if not thousands, of essays daily and you want your student's to stand out amongst the pile.
4. Does your student use active voice throughout the entire essay?
This can go a variety of routes. Some students use passive voice throughout an essay. Some switch between active and passive voice. And, while this is a challenge for all writers regardless of student status, it's important to note.
Using active voice will help make your student's essay stronger. You can utilize a word processing program, which can provide assistance with recognizing passive tense to active but, be extremely cautious in relying completely on any word processing tool because they are never completely accurate.
Example of Passive Voice: Your car has been scratched. Example of Active Voice: I have scratched your car.
5. Are there any clichés?
As you read your student's essay, do you recognize any phrases that you hear often – perhaps in conversation? Clichés are all-too-common, overly used phrases (think "tip of the iceberg," "like a kid in a candy store," "think outside the box," etc.).
Your student should aim to avoid these like the plague (okay, that was a cliché – but we added as a bonus example)!
Why? Writing is meant to be a creative process and using these burnt out phrases takes that creativity away. Suggest your student uses more original descriptions.
For example, instead of saying "If walls could talk" your student may write, "The secrets concealed within my spirit are endless." See? It packs much more punch! (Yep, another cliché for you!)
6. Does the conclusion echo the main points?
The conclusion of the essay should ultimately remind (without repeating word for word) the reader of the key points discussed within the body and not bring up any new ideas or subjects. It should, however, leave a lasting statement or impression that will stick with the reader once the essay is complete.
It's helpful to suggest that your student begin his or her first draft early – at the very least – one month before the essay is due, so that there is plenty of time for additional review and additional drafts.
It's also important to take breaks in between and so that your student can return with a refreshed mindset, ready to make new edits.
Though it may seem like a daunting process, for you and your student alike, starting early and taking it day by day is the best way to ensure the best essay outcome for everyone involved!